Frequently Asked Questions
You have questions? We have answers!
Syncing Your Device with PWR LAB
1. How do I sync my device with PWR LAB?
Follow these instructions IN ORDER for the smoothest experience:
• Register for Run in Ireland
• SIGNUP for a PWR Lab account
• Connect your device
• GO FOR YOUR RUN!
• If you registered for the event and PWR Lab with the same email address, you are automatically linked. If the emails are different, it is no problem. There is just one extra step.
2. I don't have a Garmin, COROS, Polar or Suunto watch. Is there another way to sync with PWR LAB?
Devices that sync 'running' activities to Garmin Connect, Suunto, COROS, Apple Watch and Polar Flow are currently compatible. You can also record directly on your phone (for free) using Suunto App.
Learn more on our Device Compatibility Page.
If you do not have a supported GPS device, but carry a phone while you run, you can download the Suunto App and use their built in GPS activity recorder to sync with PWR Lab.
3. I registered multiple people with my email address and the other people would like to sync their devices. What's our next step?
Please email [email protected] and provide a unique email addresses for EACH person wanting to sync their device.
4. I synced my device and went out for a run, but I don't see my run on the Leaderboard. What's up?
Not to worry! Make sure your run is synced from your device to your app service (such as Garmin Connect). Refresh the leaderboard and give it a few moments to refresh. For syncing purposes, please track all your activities as a "running" activity. While we celebrate forward movement in all forms, the device syncing does not work with "walking" or "hiking" activities. If you are still encountering problems, please reach out to [email protected].
5. I'm running indoors on a treadmill – am I able to upload my activity?
ABSOLUTELY. When in doubt though, you can always upload treadmill results using manual entry, but some watches also support Treadmill modes that are compatible with PWR Lab: Many newer GPS watches have the option to "Calibrate Distance" after completing a treadmill run. On a Garmin, record the activity specifically as a treadmill run. After stopping the watch – but before saving the activity – scroll down to "Calibrate and Save", and enter the total distance displayed on the treadmill. If you record the run and save it without calibrating / adjusting the distance, then it is likely to be very inaccurate. Also note that if you run on a treadmill without selecting a specific treadmill mode, then the distance calculated using GPS will be very small (close to 0), because you're not moving away from the treadmill. Note that adjusting the distance in Garmin Connect after you have saved & submitted the activity will not change the data that is sent to PWR Lab or the leaderboard. Resources: Garmin Article, YouTube Video
6. Am I able to sync walking or hiking activities?
OF COURSE! If you are using a GPS device, you must classify all your walks or hikes as a "run" for it to be automatically added to your total. Steps would need to be manually entered.
7. I want to exclude a Verified run that automatically shows up. How do I do that?
If needed, you can manually exclude activities and make sure they don't count toward the event results. Sign in to the Submit Results tool (get there from the Leaderboard), go to Activities, and choose which to exclude from the list. Then click the 
 icon.
8. What happens to my activities at the end of the challenge?
When connecting devices to PWR Lab you authorize a connection between another running data service (eg Garmin Connect) and PWR Lab. This allows that service to send us activities that you have recorded on your device (watch/phone/etc.) and then uploaded. PWR Lab does not actually connect to your watch or track you: your activities are simply pushed through your Garmin Connect, Suunto, Movescount, or Polar account to our platform.
This authorization remains intact until you choose to disable it. Your account is not automatically deleted at the end of this event, and you can use your PWR Lab account to participate in future events, or to join various data sharing programs with brands & research institutions that PWR Lab partners with. But all of that is strictly optional: your data is never sent to any 3rd party unless you explicitly grant permission. These data sharing permissions will be displayed in the PWR Lab app, where you can modify them at any time.
8. I've completed my challenge and crushed my goal – how do I disconnect my PWR Lab connection?
 I've completed my challenge and crushed my goal – how do I disconnect my PWR Lab connection?
You can disable the link between PWR Lab and your connected services at any time. After connecting your service to PWR Lab, a green link/unlink icon will be displayed on your Profile page in the app. To unlink your account at any time, navigate to the Profile page, scroll to the device connections section, and select "unlink". You can do this through the other service's app (eg Garmin Connect) as well.
You can disconnect data sources, delete your account, and/or request that PWR Lab fully delete your account at any point.
9. How is my PERSONAL activity data used?
Personal data is never sold to external parties or used for anything other than personalizing the PWR Lab experience or to improve the platform's processes. Any research PWR Lab does is always anonymized, aggregated at population levels, and in no way personally identifiable or attached to any other person information.
10. I've got a technical question for PWR Lab – how do I contact them?
The PWR Lab customer service team can be reached at [email protected].
Manually Uploading your Mileage
1.   How do I manually enter my mileage for the day?
Please remember: Manual Results are submitted on the Honor System.
To manually upload your results, click the Submit Results button on the leaderboard. On the lower section of the sign-in page, enter your email address and bib number under the Enter Race Info, and then click Sign In with Race Info.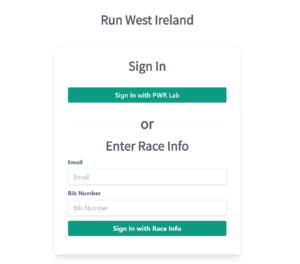 This will take you to your main menu.  Hit the button on the left that says Activities.
The Activity screen looks like this: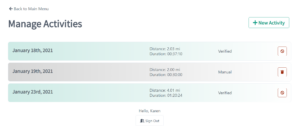 To enter a new activity, click the button that says +New Activity.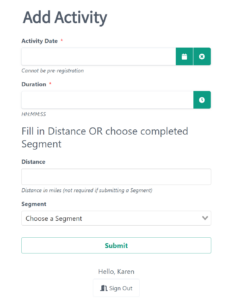 Fill in the date, duration (must be in hours:minutes:seconds) and distance.  Click submit and then go back to the
leaderboard
 and hit refresh. If your mileage does not upload to the
Leaderboard
, please wait 15 minutes and if it is still not updated email
[email protected]
.
If you are entering mileage for a mini-challenge, instead of entering the distance, find the mini-challenge under the segment section. The mini-challenges need to be the exact mileage listed.  In this example, Storm the Castle is a 3 mile workout.
Click submit and then go back to the leaderboard and hit refresh.
2.  Do I need a GPS device to participate?
ABSOLUTELY NOT!  We have partnered with PWR Lab to provide offer automated tracking through compatible devices OR the ability to manually enter your results and track your progress.
PWR Lab is currently compatible with Garmin, Suunto, Polar, and COROS. Apple Watch is not yet compatible (more info below). We recommend that Suunto users sync to Suunto App rather than Movescount. Uploading FIT files, GPX files, screenshots, etc. is not supported in order to get Verified results. Strava is not compatible.
What about my Apple Watch? Apple Watch is not currently compatible, but PWR Lab is hard at work getting it integrated. In the meantime, it is possible to sign-up for Run Gap, and send Apple Watch data –> Run Gap –> Suunto App or Garmin Connect –> PWR Lab.
TIP O'THE DAY:
 If you do not have a supported GPS device, but carry a phone while you run, you can download the Suunto App and use their built in GPS activity recorder to sync with PWR Lab.
3. What is PWR Lab?
PWR Lab is the premier provider of Lived Experience (LX) data. PWR Lab takes LX data collected throughout our daily lives, digitizes and translates it, to make it meaningful and more valuable to consumers and businesses.
LX data is changing how humans translate their physical experiences into our increasingly digital world.
PWR Lab is a running analytics company that aspires to connect the world of sport. Their Connected Events help bring the running world together, while their Training App helps runners of any level predict risk, prevent injury, and perform optimally. The difference between the two is explained here. You're eligible to redeem a free trial on their Training App – no credit card info needed, no obligation, no risk – which begins when you create your account. For more information on PWR Lab check out their FAQ, or YouTube Channel for tutorial videos.
4.  Do Walking, Hiking or Steps count towards my mileage?
ABSOLUTELY!  Two ways to upload these:
Manual Form – Simply add your walking, hiking or steps (5,000 steps roughly equal 3 miles – step calculator here)
5.  Do Activity based exercising (yoga, swimming, etc) count towards my mileage?
AGAIN ABSOLUTELY!  Please download this chart for time to mileage conversion.  Then upload that mileage:
Manual Form – Simply use this chart to convert your activities to mileage.
6.  I registered after January 17th, do my past activities count?
Whether you are manually uploading activities or syncing with PWR Lab, only activities from the date you registered will count. (Ex: If you registered on Jan 20th, your activities or syncing begins officially on Jan 20th.)
7. We ask that you keep the most important pieces of this event in mind:  Community!
All manual submissions are completely on the honor system. Unrealistic results are often honest mistakes, and are often corrected.
Activity Conversion Chart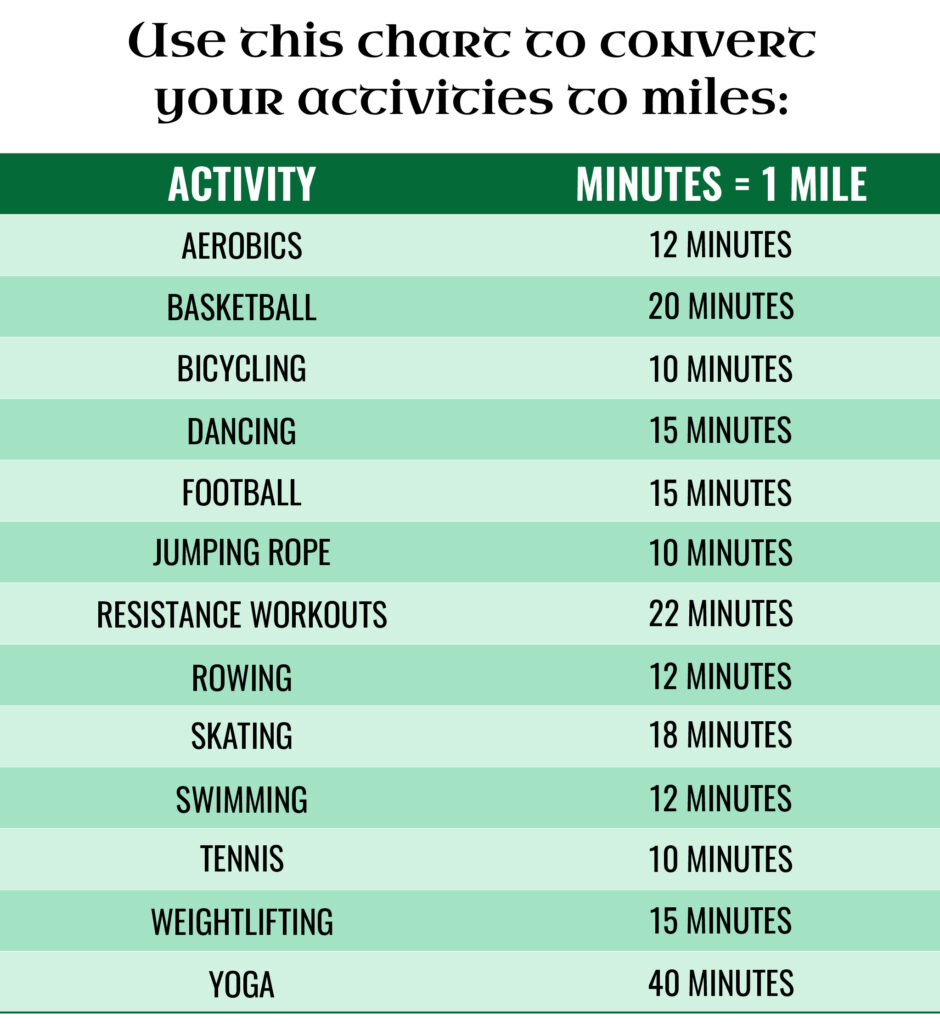 How do I use the Leaderboard?
1. What are the filters of the Leaderboard?
 YOU determine what data means most to you as you take on Run West Ireland. Your filters are created from your registration and any edits made be made along the way by logging into your Race Roster account or emailing Run West Ireland's support team [email protected]
Category Filters
– Name/Bib Search
– Gender
– City / State / Country
– Age
– Team 
2. May I register after January 18th?
 ABSOLUTELY! You are welcome to register anytime though out the challenge. Your finisher's medal will be sent to you after the completion of the entire event (April 30, 2022). Your finish line is determined by YOU! 
3. What does the green Verified badge on the Leaderboard mean? 
The green Verified badge is reserved for participants who have uploaded 100% Verified data through PWR Lab. Uploading FIT files, GPX files, screenshots, etc. is not supported in order to get Verified results. 
4. Why isn't my activity appearing on the leaderboard after I recorded it?
Check to make sure that:
You synced your device to the app/service (eg Garmin Connect). PWR Lab does not sync directly to your watch, but receives activity data from services like Garmin & Suunto after you sync to them.
You have waited a few minutes (up to 15) for Garmin/Suunto/etc to send the activity to PWR Lab, and for PWR Lab to process it for the leaderboard after syncing your device. (Suunto users: Movescount is really slow. Use Suunto App)
You have refreshed the leaderboard page to load the newest data.
The activity was recorded as a running activity, and not any other type (walking, biking, etc). Changing an activity to running after the fact will not allow the activity to sync.
The activity was recorded after you registered for the event. Think about your time of registration as the time you cross the starting line: anything recorded before that cannot be counted with Verified results.
You did not unlink your device from your PWR Lab account (you can see this on the Profile page).   If the missing activity is not explained by the list above, you can go to the Training App's Profile page to unlink & relink your device, and force activities to import. In rare cases this may be necessary to retrieve missing activities. 
5. When will I receive my Finisher's Medal? 
Your finisher's medal will be sent to you after the completion of the entire event (early May 2022).
Team and Relay Challenge
1. What is a TEAM?
Run West Ireland allows all Solo Challengers the choice to participate on a Team – so you can track other teammates with you as you progress through the event. A TEAM consists of 2 to infinity participants – all participating under one team name (such as Team Sacramento). What an awesome motivational tool for you, your teammates, your family members, your co-workers to keep on track while you socially distance!
With the Team filter you will see a sum total of your mileage as you encourage your teammates along the Run West Ireland course map, whether you're contributing 2 or 200 miles.
TIP O'THE DAY: During registration make sure to select your team or start a team if it is not listed. Then once the event starts you will be able to select your team name's drop down from the Leaderboard.
2. What is a RELAY?
A RELAY consists of 2-5 participants. Mileage from all members is combined for the relay total.
Relay participants will appear on the Leaderboard as individual participants as well as have their Relay team appear under the Team filter.
3. May I switch to a Relay?
ABSOLUTELY! (see how accommodating we are ha!)
Reach out to [email protected] and we'll get you situated
Mini Challenges
1. What is a Mini Challenge and why?
Run West Ireland has created fun and clever challenges along the way to keep you MOTIVATED and moving along towards your goal! We have partnered with various sponsors to provide incentives all along the 508 miles of the Run in Ireland event. 
Mini Challenges will be announced every other Monday and last for 2 weeks.   Check out our Mini Challenges page (coming soon) for more details.
More Questions & Your Support Staff
1. Can people from outside the US register?
YES PLEASE! We are excited to have participants from all over the world. 
2. How may I contact the Run West Ireland support staff?
We would be delighted to help! Reach out to [email protected]. Slainte!